The Good's Experience
We want your visit to be the most enjoyable, fun, and care-free experience you'll ever have! It's all about having fun and feeling good… because furniture shopping should be. We don't like highpressure shopping environments and can't imagine you do either. You won't find any highpressure sales folks here. We are honest folks, ready and willing to help you with as much or as little as you desire.
Stroll through our campus of 12 historic, multilevel buildings situated on 3 city blocks and you will find America's most wanted furniture and accessories in beautiful, inspiring displays. Make it a day of fun furniture shopping and idea gathering. Shop the new Good's Sleep mattress gallery and experience scientifically proven mattress selection. Stroll the The Market Shops where you can find the perfect gift for that special someone or a fun item for yourself! The 'ribbon of glass' Skywalks, four glass elevators overlooking beautiful atriums, and the Old Mill Fishpond are favorites for all who visit… especially the little ones. If you want to make more than a day of it, pamper yourself to a relaxing overnight stay in one of our luxurious Suites @ Good's.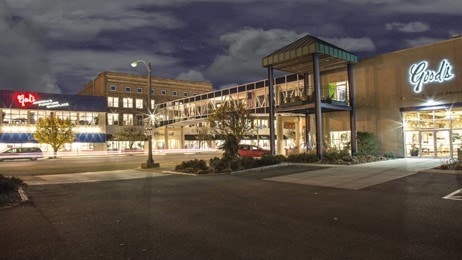 Our selection is beyond words. No matter where you are in life, we have furniture to match your style and your budget. Regarding price, we firmly believe prices should be kept at a bare minimum 365 days a year. Not up one day, down the next. Honest-to-goodness value and service day-in and day-out. We offer the best opportunity to see, feel, and experience the latest styles trending in America from top furniture makers, all in one location! No need to travel from store to store just to come up empty handed and frustrated with minimal selection. One trip to Good's will allow you to see it all and if you can't find it here, chances are you probably won't find it anywhere. Enjoy, and let your imagination run free as you make your house the home you deserve.
Fun, adventure, unbelievable selection, everyday low prices and top-quality service. Our 'Good' service encompasses professional decorating assistance, expert preparation of your order, and premium, in-home delivery. From the moment you walk through our entrance, to long after our delivery team sets up your new investment, we are here for you every step of the way. We look forward to creating an experience unlike any other for you! Welcome to the Good's Family!
No hype. No phony sales. Just honest to goodness value and service every day!