Our Furniture Care Guide is compilation of advice from America's top furniture makers all in one place. We hope you find it as useful as we do!
Please scroll to find the appropriate section regarding your furniture.
Upholstery
Please take care in placing your furniture away from windows and direct sunlight as this can sunburn the fabric, weaken the fiber, and even bleach the color. Contact with heat vents and high humidity damages fabrics as well, resulting in faded colors and fibers that can separate or be torn easily. Try to reposition your furniture on a regular basis and avoid sitting in the same spot, as uneven wear can result.
To ensure longer lasting fabrics, it may help to vacuum the item's seat cushions, inside arms, and inside backs once a week. Dirt and dust act like glass particles, cutting the small fibers of the fabric. All yarns, regardless of their reputation, are subject to this abrasive action. Pets and pet hair are extremely abrasive on fabrics; therefore we recommend that they are not allowed on the furniture. Evidence of pet use is not covered by any warranty. All removable cushions should be turned often and plumped up. Be sure to also plump up pillow backs, non-removable seats, and padded arms. Some settling of the cushions is to be expected with time. A little extra maintenance will help ensure years of enjoyment.
---
Comfort Wrinkles
As you settle into your new furniture, "comfort wrinkles" will begin to develop in the fabric and leather. All materials display this characteristic. Some fabrics and cushions are more apt to develop these wrinkles than others. Luxuriously plush seating cores are more apt to experience "comfort wrinkles" sooner than a firm cushion- much like a down pillow would. Comfort wrinkles are to be expected and give your pieces added beauty, character, and uniqueness. Many of today's styles are designed with a "wrinkled elegance" saying "I have been there and back!"
---
Pilling
Many of the best wearing synthetic fabrics in the industry will display pilling, which is similar to the "fuzzing" experienced with new carpet, or a sweater. This typically occurs when loose fibers near the surface are met with friction from use, and become tangled with other fibers in the fabric. This pilling can be easily removed with a battery operated furniture or sweater shaver. This may need to be done more than once and will subside as time goes on.
---
Crushing and Shading
Many of today's fabrics have a soft rich texture that creates visual interest. Color shading can occur on these when light from different angles is reflected off the fabric, which creates a unique antiqued or vintage affect. Also, as these fabrics have a texture or pile to them, the yarns will flatten creating an irregular surface appearance and texture. These surface and nap variations are the nature of the fabric and are to be expected.
---
Basic Cleaning
For overall cleaning of soil, manufacturers recommend using a professional cleaning service for all upholstered products. Cushion casings should never be removed and cleaned by the consumer. Always proceed with caution when cleaning a spill or stain. Failure to follow cleaning code instructions may result in damaged fabric.
W- Vacuuming and light dusting is recommended. Spot clean by using only the foam from a water-based cleaner. Spot test in an unobtrusive area by applying foam using a circular motion with a soft brush.
S- Vacuuming and light dusting is recommended. Spot clean with a water-free solvent or dry-cleaning solution.
W/S- Vacuuming and light dusting is recommended. Spot clean with a mild-solvent, upholstery shampoo or with the foam from a water-based cleaner. If using a solvent or dry-cleaning product, follow the directions carefully and use only in a well-ventilated area.
X- Clean only by vacuuming and light dusting. Water and solvent cleaners may cause extreme shrinking, stains, and disrupt the surface appearance.
When spot cleaning, ALWAYS test colorfastness first, in an unobtrusive area before proceeding. Also, be sure to follow the cleaner's instructions for optimal results. In most instances of spot cleaning, the fabric should never be cleaned with a scrubbing motion as this will result in unnecessary wear of the upholstery and possibly make the soiling worse. It is typically recommended that all stains are gently blotted with a clean cloth.
---
Leather
Leather represents the most natural and durable of all upholstered furniture coverings. Compare hides and you'll see that no two hides are alike. Special hand finishing techniques, scratches, healed scars, insect bites, stomach wrinkles, grain variations, shading, and color are all normal characteristics. Since each hide used in upholstering is unique, these characteristics can show up anywhere on the piece. This is what makes leather such a distinctive, beautiful, and desirable upholstery covering. As with anything desirable, leather requires care to ensure years of enjoyment. We recommend care products from Guardsman and Lexol to adequately care for your leather items.
Protective coatings over the leather help guard against soil and stains. For spills, blot excess liquid immediately with a clean cloth or sponge. Follow with a lightly dampened, lukewarm cloth in a gentle circular motion. For oily spills, or body oils, add a few drops of non-detergent, mild soap such as Ivory or Dove to a small bucket of warm water. Use a soft cloth that is lightly dampened with the mixture, and gently go over the entire area in a light, smooth circular motion. Any time you use a soap solution, be sure to test the leather for colorfastness in a hidden area. Always allow the upholstery air dry, instead of using a hair dryer. Please note that these leathers, like all leathers, are not protected against abrasion or punctures, but merely resist light soiling and staining under typical household usage.
Aniline leathers are known as "naked leathers," as they do not have a protective topcoat or pigment applied to the leather. Pure aniline leather is known for being soft and supple, with a beautiful natural appearance. Over time, pure aniline leathers will develop a stunning patina that displays the individualism of each piece. This leather initially repels most spills; but if allowed to sit, they will absorb into the leather. Quickly blot any liquids away with a dry cloth or sponge, and let air-dry. Use only distilled water and a soft cloth for cleaning. These are only suggestions; and not a guarantee that any stain will be totally removed. Appropriate preventative care should be used to avoid oil based stains.
Semi-aniline leather is produced through a very similar process and has characteristics similar to pure aniline, but has a thin protective topcoat. The topcoat can be pigmented to add additional highlights or transparent to add a measure of protection. For spills, use a damp cloth to immediately blot off any excess. Do not rub.
Nu-Buck leathers are lightly brushed and buffed during production to provide velvety soft feel. Often referred to as "bomber jacket" leather, they have a high degree of color variation and natural markings. These are not "protected" leathers; and will have the same characteristics and cleanability as pure aniline leathers.
---
The distinctive grain of finished wood is as individual as a fingerprint. Nature marks each piece of wood with its own figured character. Color variations, mineral deposits, sap pockets, knots, cherry pits, burling, and other character marks vary with each piece.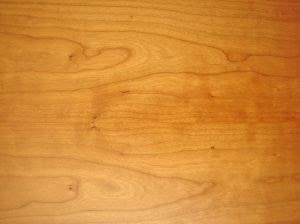 Furthermore, each species of wood has its own exclusive set of characteristics that bring out the individuality in each piece. Combine this with differing regions of growth, length of seasons, and weather, it becomes easy to appreciate the beauty and uniqueness of each piece. Furniture can also be "physically distressed" or "antiqued" to varying degrees in order to bring out the beauty and uniqueness within each collection. Each piece is hand distressed by artisans to provide a timeless heirloom quality. Some distressed elements can include worn edges and corners, simulated worm-holes, sand-thru edges in finish, and various other techniques to achieve a well-worn appearance.
---
If doors do not line up across the top, or the drawers seem to bind, you will need to level the piece. Our delivery personnel will do this for you initially, but once the piece settles into the carpet or you begin to load the piece with items, you may need to re-adjust accordingly. Leveling may also be necessary in older homes when floors are beginning to slope, or on certain flooring materials such as tile. To do this, simply grab the front top of the piece on both sides, and gently push and pull the edges back and forth, in opposite directions. As you perform this motion, watch for door alignment to adjust. When the doors become aligned again, you will be able to see at what point(s) the piece needs to be shimmed or lowered. Depending on the piece, some items may come equipped with leveling feet to make these adjustments. It is also important to note that the wider or longer a piece is, the more likely it is that the item will need leveling adjustments. With patience you will find the correct placement for the piece.
Fine wood furniture requires diligent care to protect its appearance. Table pads are recommended for all wood table surfaces when used frequently; especially when entertaining. All wood finishes are subject to scratching and damage from dust, rubber lamp bases, lamp cords, and plastic materials. Surface scratches can occur by sliding everyday items across dining tables, occasional tables, bedroom furniture, and many other pieces. Therefore, it is recommended that care is taken to avoid sliding anything across wooden surfaces. While fine surface scratches are virtually unavoidable, it is important to use care in order to mitigate their development. Many plastic and rubberized items left on wood furniture can actually cause discoloration due to the migration of plasticizers into the finish. For these reasons, it is highly recommended that any accessories, telephones, lamps, keyboards, and the like, have felt pads installed where they contact furniture.
Moisture will permanently damage fine wood furniture, so care must be taken to immediately clean up any sort of spill. When cleaning, use a slightly damp, clean microfiber cloth; and follow this process immediately with a dry, soft, clean cloth in the direction of the wood grain. Also, all furniture is susceptible to heat damage. Care must be exercised when placing anything hot on surfaces. Hot items with discolor the finish if hot pads aren't used. Pizza boxes, computers, and other items that generate heat and/or moisture will cause issues. If an item is too hold to hold in your hand then you should not place on the wood. While there is no industry standard on protection, it is highly recommended that thick placemats in conjunction with stoneware or similar place settings are used in order to reduce heat transfer to the furniture finish. Additionally, solvent based or abrasive substances, such as fingernail polish remover or ammonia, should never be used on or near furniture. Surface scratches, water rings, heat marks, and checking or lifting of the finish are considered damage and not factory defects.
Care should be taken when inserting or removing leaves to prevent chipping or denting the table surfaces. To prevent warping, use leaf protectors or a blanket; and store leaves topside down on a flat surface. A great place to store leaves is underneath a bed. If a leaf is stored for a long period of time, some variation in finish and color may occur; as the leaf is not exposed to the same light, usage, and polishing. It is also recommended that table leaves are not stored in a basement or garage where there will be drastic differences in temperature and humidity levels.
Sunlight, Humidity, & Temperature

Avoid direct sunlight with shades, blinds, or other window treatments. Direct sunlight will cause finish color changes, hairline cracks, and checking; as well as other types of damage. Reposition accessories and lamps to prevent "spot bleaching." Wood expands and contracts based on humidity levels and seasonal changes. Because of this you may experience some variation on how the drawers and doors open and close as well as table tops and their leaves. Silicone lubricant or soap can be used on drawer glides. Avoid heat vents and try to keep humidity levels as close to 35-50% as possible.
While marble and other stone surfaces can virtually last forever, they can still stain and lose their sheen level. Use a soft damp cloth for cleaning. Please remember that marble and quartz are natural materials. Natural stone surfaces display beautiful variations in color, which is a characteristic of the material. It is normal to see veins running through the marble that resemble the appearance of cracking. Also, fillers are used to even out the surface; and are to be expected. When moving any removable stone surface, be sure to not lift or carry the object lying flat. This could potentially lead to the stone cracking in half from its own weight. To move, rotate the top on to its side; and then lift it while it is in the vertical position.
While such shelving is sturdy, there is not an industry standard specifying how much a particular glass shelf or insert will safely support. To prevent breakage of shelves (and their contents) good judgment should be exercised. Be sure all shelf clips are properly and securely in place. Use discretion when placing heavy items or large quantities of items on glass shelves. Glass shelves or inserts should always be removed from a piece any time it is being moved or shifted; this especially includes leveling the piece.
---
Metals
Many manufacturers offer pieces equipped with metal tops such as copper and stainless steel. Copper table tops arrive with a thin coat of clear paste wax already applied. This thin layer of wax is meant to aid in maintaining the color/patina of the copper, as well as to aid in repelling stains. It is recommended that a new thin layer of paste wax is applied every few weeks, or as needed. All that is needed is commercially available paste wax such as Johnson's or Briwax. One can tell when it is time to apply a new layer of wax by simply dripping a few droplets of water onto the copper table top. If the water does not bead, it is time to apply a new layer of wax. To apply the wax; spread a very thin layer on the copper top, allow the wax to dry for five to ten minutes, then buff off with a soft cloth.
Any spills that occur on the copper should not be left to sit. Highly acidic items left unattended, such as cola or tomato based sauces, could strip the wax and top layer of patina on the copper. This will result in an area that is bright and shiny like a new penny. However, not all is lost! If this occurs, the recommended action is to leave the area as it is, and not apply wax over the affected spot. By leaving the affected area exposed, it will slowly regain the patina through natural oxidation. When the area begins to blend well with the surrounding area, apply a layer of wax over the spot to seal in the desired level of patina. The same method can be used on minor scratches, should they occur. While this method will not remove the scratches, they will eventually blend to the surrounding area's color, and become less noticeable.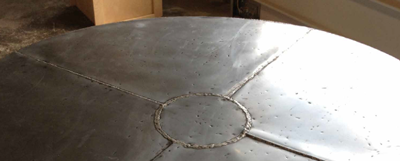 Stainless steel is a durable and attractive material, and can be found on some table tops and kitchen islands. In order to maintain the material, it should be wiped with a clean cloth after each usage. Additionally, frequent cleanings should be performed with available stainless steel cleaners. It is recommended that these surfaces are not cleaned with abrasive cleaners such as Bar Keepers Friend or Ajax. Routine cleaning with a stainless steel polish such as Weiman Stainless Steel cleaner is recommended. Over time and through routine usage, the stainless steel will show fine scratches. These are not considered defects, and should be viewed as a tribute to your culinary passion!
Materials used in mattresses today are very plush and designed to mold around your body's unique contours. The depth of performance impressions will vary with different styles of bedding. Depending on the amount of upholstery on a mattress, the impressions will vary from 1 to 4 inches. This is normal and to be expected. Be sure your mattress has sufficient under-bed center support, with middle legs to the floor. These supports are required for warranty purposes.